Janitorial Building Services
Let All-Pro maintain your single or commercial office buildings, manufacturing & industrial production facilities, or Multi-Unit Residential Common Areas. We also offer a complete line of general construction solutions.

We're confident that we can bring improvement to the quality in your commercial office building and at a very competitive rate.
Commercial Office Cleaners
Los Angeles, CA
Count on All-Pro to keep your lobby, private offices, restrooms, kitchen, and common areas sparkling clean. Our janitorial building service includes waste receptacles, furnishings, glass, floors and carpets, lunchroom and coffee stations, and more. We also offer additional janitorial building services including day porters, standby event cleaning, parking lot clean up and maintenance, construction clean-up, general construction, painting, landscaping, and much more.
Recent technology allows us to provide professional office cleaning services that are more effective, better for the health of the custodians and office building occupants, and better for the health of the outdoor environment that we all share.
Learn more about our Healthy Green Solutions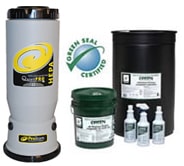 About Professional Office Cleaning
All-Pro shall supply cleaners who are competent to perform the duties required by this agreement. All-Pro shall at all times enforce strict discipline and order among its employees. All of our cleaners shall be properly uniformed or suitably attired. Our employees shall be fully instructed in the proper use of keys, locked or secured areas, and any special alarm systems in use at your office or commercial building. All-Pro shall discharge any janitor causing breech of the peace or violating any Customer policy or any provisions of this agreement.