Green Janitorial Services
At All-Pro Enterprises, we believe that a clean and tidy environment is essential for a healthy lifestyle. That is why we offer green cleaning services to promote the health and wellbeing of our clients. Our team of certified professionals is dedicated to providing the highest quality of services for your office or facility. We're based in San Dimas, CA and serve throughout Los Angeles, the Inland Empire and Orange County.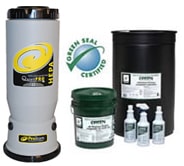 The Best Eco-Friendly Cleaning Technology
All-Pro uses the latest in eco-friendly cleaning technology to ensure that our clients' offices are kept dust-free and sanitized. Our commitment to using the most advanced cleaning methods and products available means that our clients can rest assured that their office environment is as safe and healthy as possible.
Micro-fiber mops and wiping cloths
Remove more dust to debris than the old feather dusters and dust mops and require less water and chemical to be effective.
Color-coding
Allows the isolation of contaminants by area, helping to prevent the spreading of germs, such as those picked-up in the restrooms, to other areas in the facility, especially dining areas.
Dual compartment mop buckets
Separate the clean Solution from the wrung-out waste solution, helping to Prevent the spreading of germs while providing an overall cleaner surface.
Using multiple mopping systems and color-coding them for easy recognition aids in contamination isolation, such as our red system for restrooms and blue for office areas, etc. Additional color designations can be implemented as needed.
HEPA-grade backpack vacuums
Offer better filtration and greater versatility than standard commercial uprights. With these vacuums, we can vacuum areas unreachable by standard uprights, including high vacuuming of ceiling air vents. Additionally, these vacuums are more ergonomic for the user, keeping production high and injuries low.
Green Seal Certified Chemicals
Simply better for (1) the health of our workers, (2) the occupants of your office, and (3) the outdoor environment that we all share.
Green Commercial Office Cleaning Includes:
REST ROOMS:
Dust, using micro -fiber cloths, chair rungs, baseboards, and low reach areas
Dust window ledges and sills
Clean partition windows by separate section per day
Dust desk tops
Dust picture frames and moldings
Vacuum lobby couches
FLOORS / CARPET:
Machine scrub and wax floors on call
PRECISION VACUUMING
Clean/wipe all door kick plates and door jams
WASTE RECEPTACLES:
Empty all waste baskets
Replace liners as needed
Return waste baskets to original position
FURNISHINGS:
Dust all desks tops open areas and office furniture with micro-fiber cloths
Wipe and polish all table tops and counter tops
Damp dust chairs
Dust telephone equipment
Light dust computer monitors
GLASS:
Squeegee clean all entrance glass doors